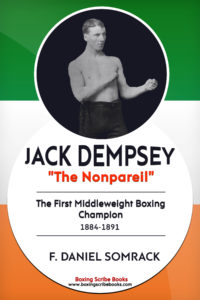 Jack Dempsey The Nonpareil is a tribute to one of the greatest prize-fighters in history. Dempsey's fistic career coincided with the transitional period of the 1800s when the sport progressed from illegal bare-knuckle brawling of the London rules to a universally accepted sport under the Marques of Queensberry Rules.
Dempsey is recognized as the first world boxing champion of the modern era. In a career that spanned twelve years (1883-1895) he won the lightweight championship of America and the middleweight championship of the world in 1884. He held the title until his defeat by the great Robert Fitzsimmons in 1891.
Dempsey's unmatched artistry in the ring made him a hero to his working class generation. At a weight of 150 pounds, a welterweight by today's standards, he was regularly matched with much larger and heavier men throughout his storied career. A master of ring science, Dempsey is considered today, pound-for-pound, one of the greatest boxing masters in ring history.
A handsome, well-spoken gentleman inside the ring and out, he was a hero to all classes during America's Industrial Revolution. His dominating power and fighting proficiency inside the ring compelled sports scribes to tag him with his famous sobriquet "Nonpareil," meaning unequaled and without peers.  He was the unbeatable force between the lightweight and heavyweight classes of the 1880s.
Dempsey is credited as one of the key figures who lifted boxing out of the dark ages of the past and into the light of a modern era. He title reign lasted eight years with his only loss coming from an illegal "Pivot Punch" from Canadian champion George LaBlanche. His sterling career was cut short by the ravages of the "white plaque" that would eventually claim his life at the age of 32.
Jack Dempsey The Nonpareil is a look back to that fabled time in sports history when baseball, boxing and horse racing made the daily headlines. This is the story of the original Jack Dempsey who inspired the heavyweight champion of the 1920s, "The Manassa Mauler" William Harrison Dempsey to adopt his name.
Click on book cover above to purchase Jack Dempsey The Nonpareil at Amazon Kindle Store.